On January 24, 2014 I was baptized into the Church of Jesus Christ of Latter-day Saints. It was a beautiful day, the best decision I have ever made, and my life is changed for the better. That being said, life is not easy but living a life according to my faith and keeping an eternal perspective makes each day exponentially more valuable, worthwhile,and enjoyable.
This past week, I was asked to give a talk during church at the Young Single Adult branch in Schaumburg. Rather than rewrite the talk for the blog, I simply copied and pasted my talk because I am excited to share it with you and I think that rewriting them may detract from some of the original message.
----------------------------------------------------------------------------------------------------------------------------------------------
I was asked to speak today on General Conference on something that touched my heart or stood out to me. Since this is the first General Conference I have watched since my baptism, I felt like a kid at a candy store. After each talk I was saying, "That one was great! And that one was great!" And turning to the Sister Missionaries, "Are they all this good?!" Needless to say, I had a really hard time try to pick out what to speak on this morning. But finally made a decision.
Elder David A. Bednar, one of my favorite apostles, spoke on Sunday morning just before our prophet. His talk, "Bear Up Their Burdens with Ease" truly spoke to the questions in my heart addressing such principles as obedience, blessings, afflictions, spiritual growth, faith, and the atonement of Jesus Christ. (Click here to hear, watch or read the full talk.)
In his talk, Elder Bednar uses a pickup truck to explain how carrying a heavy load gives us spiritual traction to press forward with faith in Christ and avoid getting stuck. A man, who had recently bought a new pickup truck decided to go up into the mountains to chop firewood for his family. As he arrived at the site, it began to snow and consequently, his new "super manly" truck…got stuck. Unsure of how to handle the situation as his wheels spun in the slick snow, he decided to get out and chop up the wood. Once he had loaded it all onto the truck bed, he hopped in driver's seat once more and tried to move the car and it moved! The heavy load of firewood provided enough downward force to provide traction for the truck to get moving again and for the man to return safely home.
A beautiful story, of course. But I think it takes a lot of thought and consideration to realize what that really means for us. A truck bed doesn't really have a choice to accept or reject a load, but we as children of our Heavenly Father, do have a choice to take on our own individual load and we are blessed with agency so we can choose what that load includes.
Elder Bednar explains, "Our individual load is comprised of demands and opportunities, obligations and privileges, afflictions and blessings, and options and constraints." It's hard to know if we are carrying the load we are supposed to carry, or if we are heaping difficulties upon ourselves that our Heavenly Father never meant for us to carry.
How can we tell the difference? Elder Bednar offers two questions to help us prayerfully assess our loads.
Is the load I am carrying producing the spiritual traction that will enable me to press forward with faith in Christ on the straight and narrow path and avoid getting stuck?

Is the load I am carrying creating sufficient spiritual traction so I ultimately can return home to Heavenly Father?
If the answer is no, then perhaps we need to let that particular load go so that we have the ability to pick up the loads that we do need in order to press on and ultimately return home to Heavenly Father.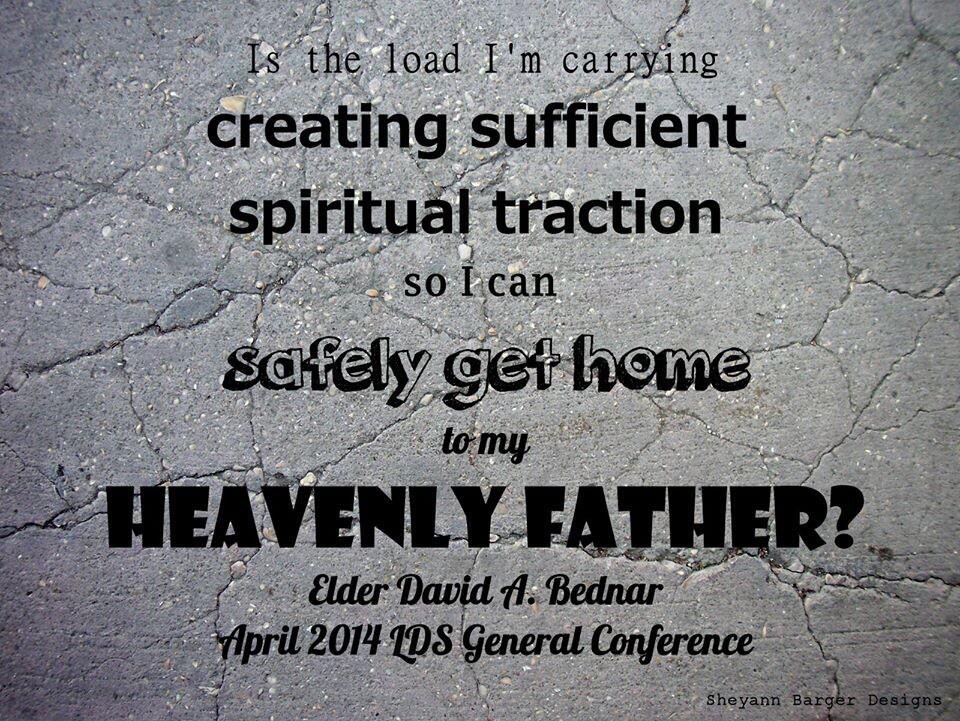 Now carrying a heavy load, not exactly the most appealing proposition. If you think about how long our lives often feel, and how heavy a weight feels after holding it for a while, carrying a load, spiritual or otherwise throughout our lives on earth can appear rather daunting, or even impossible. But, Elder Bednar carefully explains in two parts why carrying a load is not only possible, but essential.
"Sometimes we mistakenly may believe that happiness is the absence of a load,"
he says, "But bearing a load is a necessary and essential part of the plan of happiness." Without it, we would not have that spiritual traction but rather simply spin our wheels, going nowhere. So how can we carry such a heavy load?
The Savior invites us to rely on him entirely, yoking ourselves to him and with him through our baptism. As we pull our load next to Jesus Christ during the journey of mortality, we can experience how His yoke is easy and his burden is light.
Growth, however, is not easy. When I was a kid in elementary school, I got terrible growing pains in my legs. I remember crying at night, not understanding why I hurt. My mother would come into my room and explain to me that my legs were growing so that one day I could be as tall as her, much like a flower grows taller and taller out of the ground. But since was a little girl, and not a flower, the growth would sometimes hurt. But she promised that the pain would end and I would be happy that I made it through my growing pains when I grew up.
She was right. The growth, not enjoyable. But the result, the reward? Very much worth the sleepless nights.
Now there is a difference between something rather passive like enduring growing pains, and the ways in which the Lord strengthens us and encourages us to grow, which are almost always very active, relying heavily on our choices, actions, our agency. Elder Bednar urged us to remember "because our individual load needs to generate spiritual traction, we should be careful to not haul around in our lives so many nice but unnecessary things that we are distracted and diverted from the things that truly matter most."
If the man in the story with the truck had chosen to load packing peanuts, he would have had a lot of stuff on his truck bed, but it would not have provided the traction he needed to get the truck out of the slick snow. If he had loaded stones onto the truck, sure, he would have gotten the traction to get home to his family, but the stones would have been worthless to his family in terms of providing fire and warmth. But the wood was perfect in that it provided both the weight to get traction under the truck's wheels and the resource to make a fire and keep his family warm.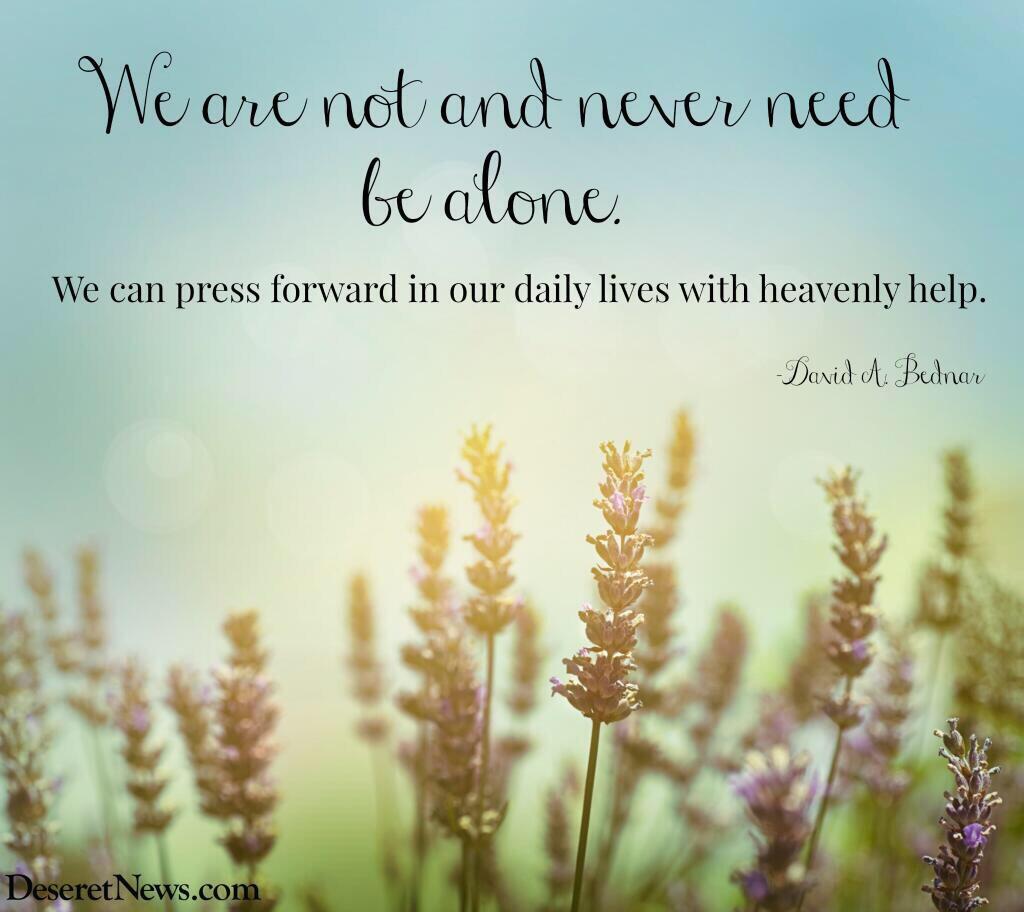 Making the right choice, choosing to take on various loads and burdens, can be difficult choice. Sometimes we feel alone. I am the only one of my family, coworkers, and college friends who is a member of the church. My family is close and has always been generally comfortable speaking about our faith. But now that I know about and believe in
the full Gospel of Jesus Christ, the restored church, the prophet and apostles, conversations sometimes become difficult, and sometimes painful. I find myself wondering if anyone could understand how my heart breaks.
Elder Bednar, in this talk, further clarified what this means, explaining that "the Savior has suffered not just for our sins and iniquities—but also for our physical pains and anguish, our weaknesses and shortcomings, our fears and frustrations, our disappointments and discouragement, our regrets and remorse, our despair and desperation, the injustices and inequities we experience, and the emotional distresses that beset us."
Jesus Christ understands everything.
There is no physical pain, no spiritual wound, and no anguish of soul or heartache, no infirmity or weakness you or I ever confront in mortality that the Savior did not experience first.
Before conference, I wrote down five questions. I had full faith that my questions would be answered, in one way or another, but I expected five distinct responses. Instead, one simple command from the first day of conference answered all five succinctly and perfectly. "If ye love me, keep my commandments."
I went to bed that night thinking, "Ok God. I'll keep your commandments. But this feels like it might be a little much for me to handle all at once." I was nervous about the future and what that meant in terms of the decisions I would have to make in terms of my career, holidays with family, selecting my priorities.
But then when Elder Bednar spoke, it made sense. We can handle the burdens which are put upon our shoulders because Heavenly Father loves us, his son Jesus Christ gave his life for us that he could feel what we feel and know how to support and strengthen us through every trial, both large and small.
I would like to bear my testimony that the Church of Jesus Christ is the true, restored church of Jesus Christ, restored by the prophet Joseph Smith. The Book of Mormon is true and we are blessed with a living prophet, Thomas S. Monson. And I testify that our Savior and redeemer Jesus Christ lived, died, and rose again to atone for the sins of all mankind. And I share all this in the name of Jesus Christ, Amen.
----------------------------------------------------------------------------------------------------------------------------------------------
If this talk sparked any curiosity about the Church of Jesus Christ of Latter-day Saints (often called the Mormon Church), here are the two church websites you can visit for more info online:
Or if you would like to join us on Sundays and check it out for yourself, please join us! Everyone is welcome. Click here to find the church closest to you!